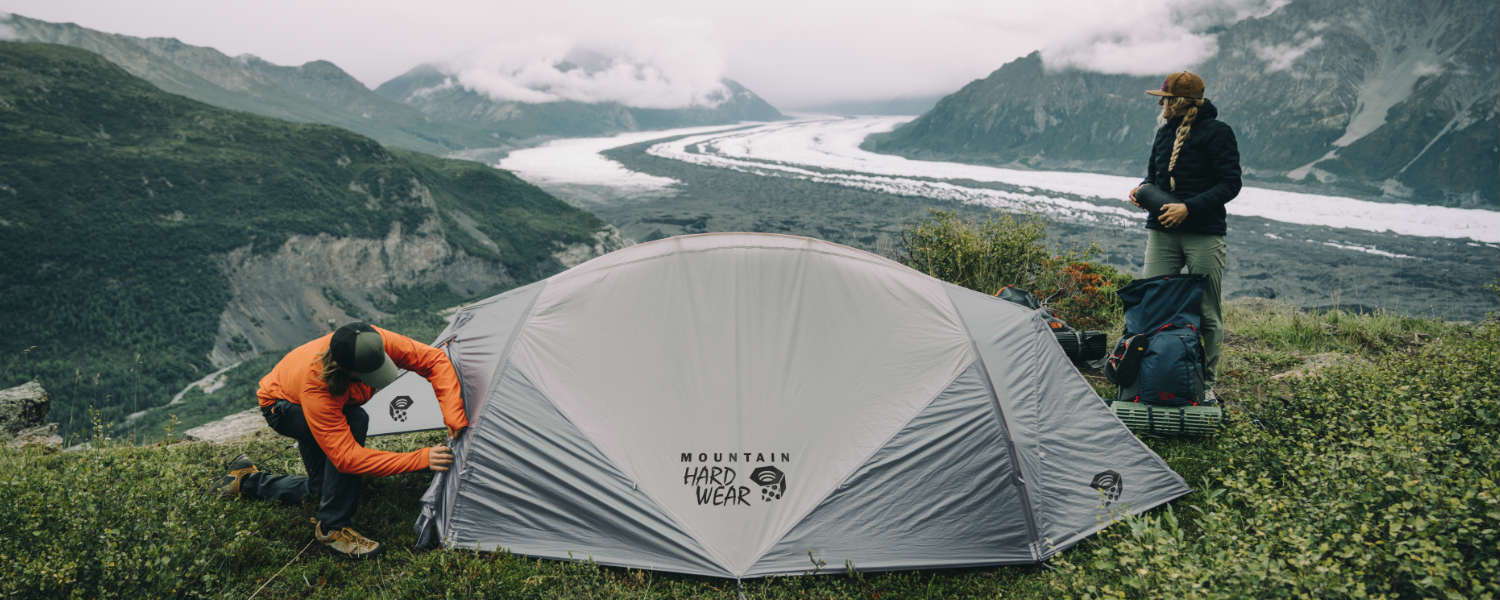 How to Choose a Tent: The Definitive Guide
Are you planning an outdoor adventure? You're probably aware that your choice of tent will influence how and what you pack, and how well you'll enjoy your experience. Weather resistance, heat retention, weight, and interior volume determine what kinds of sleeping bags, backpacks, camp stoves and cookware you'll bring along, whether you're car camping, motorcycle touring, long-distance hiking, or breaking trails in backcountry powder.
TENT COMPONENTS FROM THE GROUND-UP
Before you decide what class or style tent is best for you, you'll want to take into consideration features and options you can't do without, whether you choose a camping tent, a backpacking tent, an ultralight shelter or an expedition or mountaineering tent. Some of the following are details you won't want to overlook, no matter the type of tent you're shopping for.
PROTECTTIVE FOOTPRINTS
This is a confusing term. Footprints refer to both the square footage of a tent and also the protective material you put between the ground and the tent floor. The latter helps to keep moisture from seeping upward and adds a replaceable layer between your tent and rough ground surfaces. It's important that the footprint doesn't extend far beyond the edges of your tent, so as to prevent the material from "catching" rain and condensation and channeling it under your tent floor. Custom footprints made for each individual model are the way to go, though they're usually sold separately.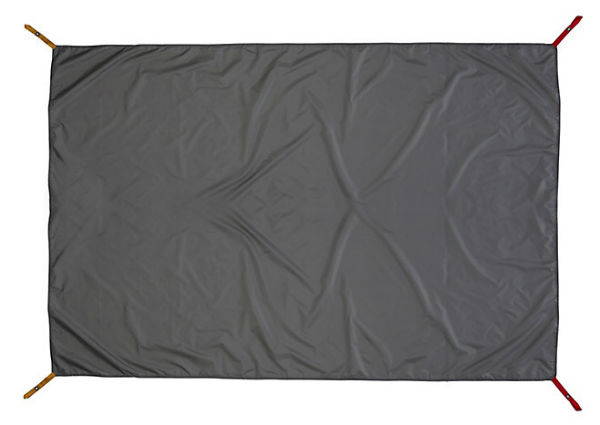 STAKES & TENT PEGS
These come in all shapes & sizes. Pegs can come in a variety of material, plastic, steel, alloy and even titanium. Most tents come equipped with steel hooked pegs. You will want to be using a peg that it large enough and sturdy enough for the style of camping you will be doing. For example, if you are expecting lots of rain, wind or snow, your standard 6 inch peg may not be the best choice.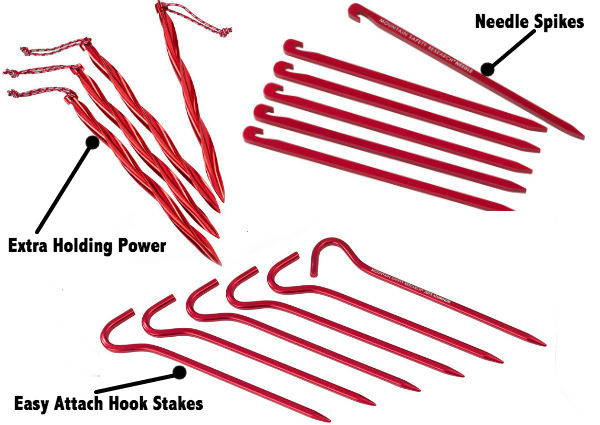 POLES
Poles are the skeleton of any tent. They will provide your tent with structural integety and help your tent stand up to given load. Poles can come in a variety of materials and assembly methods
TENT BODY
This is the main tent material layer. Tent body's can come in a variety of shapes. A few examples are:
A-Frame
Dome tents
Cabin tents
Double wall tents
Single wall tents
Duel Apex tents
The list goes on...
Each body style has it's own advantages and dissadvantages. We we discuss these later in the article.
RAIN FLYS
This is the outer layer that helps to keep rain, snow, blowing sand, and desert dust from penetrating your tent's walls and mesh panels. Rain flys enhance your tent's contour in areas with high winds and help shed accumulating snow. When it's properly affixed to your tent's exterior poles, it also provides an insulating cushion of air while facilitating ventilation. The most effective rain flys reach to just above ground level, diverting rain from the tent's footprint. They're usually connected to your tent's "exoskeleton" through hook-and-loop attachments or clips, and sometimes require staking out for the perfect pitch.
VESTIBULES
Vestibules are a tent's answer to the mudroom. They're a necessity for most camping styles, and some oversized cabin tents even feature walk-in screened entryways. The flipside? Vestibules can be confusing for sleepy kids or otherwise incapacitated campers (festival goers, we're looking at you) to manage if they need to make middle-of-the-night bathroom runs.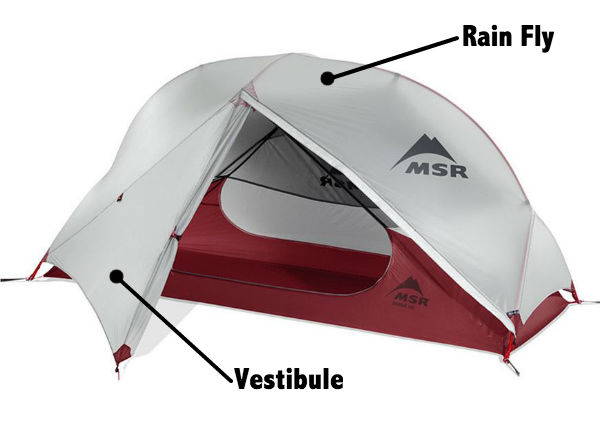 MESH PANELS
IIf you plan on camping during the hot summer months, or in any warm humid destination, you will definately want a tent with lots of meshing. This will ensure better ventilation, protection against insects and also reduce condensation.
GUY ROPES
These are the cords or rope that is used to secure a tent or tarp to the ground. They provide structure to parts of the tent or tarp where the poles cannot. Usually there are line locks or tensioners on these cords and it is important to periodically check the tension on your lines to make sure no pooling occurs when it rains.
POLE CLIPS
Fairly straight forward. You will find these on the tent body, they are used to attach the tent to the poles. Look for sturdy, quality clips when choosing any tent. These are often stiched to the tent body and if one breaks, it can be a hassle to repair.
FEATURES TO KEEP AN EYE OUT FOR
REINFORCED INTERIOR POCKETS FOR STORAGE
All but the most lightweight tents usually have pockets and loops for adding overhead mesh storage lofts. These attachment points and pockets are extremely useful for stashing headlamps, car keys, first aid kits, and eyeglasses. Ceiling loops also allow campers to hang lanterns or portable fans.
TAPED FLOOR SEEMS
The seam between the flooring and wall materials is the most vulnerable to ground seepage, whether from dew or from rainfall. The cheapest tents often have bare seams, but tent manufacturers should tape or "weld" each all the seams on their higher-quality products. It's also a good idea to choose a tent with the flooring material sewn to the wall at least two inches above ground level to protect the interior from rain splash.
PACKED SIZE & WEIGHT
Knowing the packed size and weight of your tent is really important and will help you with your trip planning. If you are going car-camping, and will be parking next to the campground, size and weight is less of a factor, than when you have to hike 2 hours to get your campsite.
LEGROOM
Whichever tent you choose, you don't want your head or your feet pushing against the tent walls. Not only is this uncomfortable, but it causes moisture and condensation to seep through to your skin. Be sure to select a tent at least six inches longer (or wider) than your height so you're not pressing against the sides.
ZIPPERS
You're going to crumple, fold, and stuff your tent, so be sure you choose a brand that only uses the best. YKK zippers can withstand a lot of abuse. If your zipper comes with a metal pull tab, consider replacing it with a bit of reflective ribbon or lightweight woven cord to reduce weight and noise.
WATERPROFNESS RATING (MM)
If you opt for a single wall tent, which we will discuss further in this article. Make sure that the waterproffness rating is adequate. Remember, with a single wall tent, you dont have the added rain protection from a fly. For a single wall tent kook for something in the 2000mm range. If you're tent has a fly this is less of an issue.
REFLECTIVE MATERIALS
Whether you're car camping, at a festival, or out on the trail, reflective tape can guide you back to your tent after a midnight nature walk, mark guyline locations, and prevent cars from crushing your tent and its occupants. Reflective tape attached to tie-out loops, rain flys, and zipper pulls aren't just a convenience, they're a safety feature.
TYPES OF TENTS
STANDARD TENTS AKA: 3 SEASON TENTS
These are among the most popular tents, and many manufacturers, such as Mountain Hardware and The North Face categorize them as just that:"camping tents". They're typically the least expensive type of tent, given that their material and design aren't tailored to withstand harsh conditions or meet backpacking weight requirements.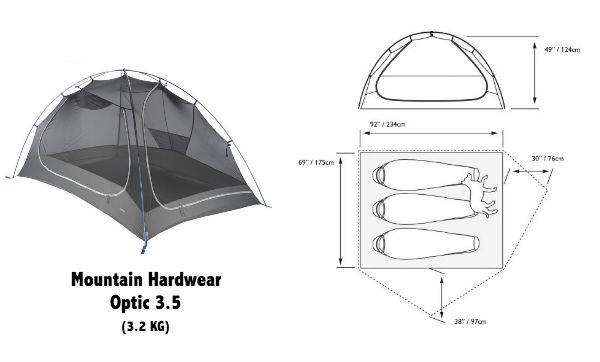 Two-to-three-season camping tents are perfect for a single person, couple, or "starter family" to take car camping, and RV enthusiasts often use them to stash older kids or grandkids. These all-around tents rarely weigh more than 10 pounds for a family-sized model and rarely more than 6 pounds for a 3 person model, they're free-standing, and they're made for fair-weather use.
If you live in an area prone to summer rain showers, quality can make or break your weekend. Tents in this category include the dome type, but most have square or slightly rectangular footprints, making the most of usable floor space. Look for the following features when you're choosing your camping tent:
CAPACITY
Most tents in the camping class advertise a three-person capacity, but in reality, this is the perfect size for two adults and their gear. If you're a family that's not ready to commit to a larger cabin-style tent, you should be able to find a snug six-person dome-type model.
HEIGHT
Expect just as much headroom as you'll need to sit up or crouch. An adult is unlikely to be able to stand in the middle of these tents. On average these tents will be between 4 to 5 feet tall. Even the biggest models aren't as cot-friendly as cabin tents due to their sloping walls.
VENTILATION
No matter the rating, these are warm-weather tents, and they're usually built to allow a cross-breeze through the door and a back window with a screen "skylight" at the apex. Top quality camping tents have more screening for maximum ventilation and stargazing.
RAIN FLYES
Budget-quality camping tents tend to have minimized rain flys designed to keep rain from entering the skylight while diverting light rain from the windows and doors. Many don't extend beyond the top third of the tent, allowing water to run onto the sides and leak through the fabric. Always look for a tent with a rain fly that extends to the ground, even if it means having to stake it out.
VESTIBULES
Bargain store 2-3 season dome tents with small rain flys don't include vestibules. Higher-quality camping tents do, providing room for dirty boots and packs. Vestibules require staking out by attaching guylines to sewn-in loops. Your camping tent should come with medium-weight metal or plastic tent stakes, and if you lose or break them, any store-bought replacement will do.
SHOCK-CORDED METAK OR FIBERGLASS POLES
Most tents in the camping category will require four to six collapsible poles for setup, with one or two additional poles to support the rain fly. Some companies, such as The North Face, MSR, and Mountain Hardware have taken advantage of cutting-edge materials and engineering to produce two- or three-pole camping tent designs
LIMITED PACKABILITY
These tents are rolled up and stuffed into a bag that's usually too cumbersome for most modern backpacks, but handy to keep in the back of a car for spontaneous camping trips. Smaller models are a great option for entry-level backpackers if one hiker carries the poles (usually on the outside, as collapsed camping tent poles are about 24-36 inches long), and the second camper stuffs the material into their own pack for shorter, easier overnight hikes.
BACKPACKING TENTS
Are you planning on spending a week on the trail? Is your future campsite an airplane ride away? Backpacking tents are designed for adventurers who want to travel light and put some miles between themselves and civilization. They're more streamlined than camping tents, but with more versatility when standing up against the elements.
EFFICIENT CAPACITY
Adventure sports manufacturers know that their customers have very specific needs within the backpacking tent category, so tent shoppers have a lot of options to choose from, whether they're in the market for a one, two, or four person tent. To keep weight and materials at a minimum, most backpacking tents allow just enough room to sit up, and two-person tents mean just that: Not two people and gear. Larger hikers, or those who don't like to be crowded, should bump up from two-person to three-person tents.
ALL WEATHER, ALL SEASONS
You can select from 3+ (extended season) or four-season tents to keep you warm during unexpected spring or fall snow flurries, or if you want to skate up to the edges of winter. With the right sleeping bag, four-season backpacking tents work well for backcountry skiers and snowboarders. Properly pitched and staked tents and correctly set up flys shed water, hold up to wind and withstand light snow loads.
LIGHTWEIGHT MATERIAL
Backpacking tents are built with high-tech, lightweight but durable rip-stop synthetics coated in flexible, breathable waterproofing. You won't want to wear your crampons inside, but their floors are surprisingly durable given their weight and thickness. In the backcountry tent manufacturing world, thinner is better, but also more expensive when you compare the square foot value of lightweight tents to that of standard camping or cabin tents. That cost pays for itself when you're in the middle of packing triage, or at the top of a steep, technical trail.
DOORS
Two-person backpacking tents are snug, but there's no need to climb over your buddy to get in or out if you choose a backpacking tent with multiple doors. Some solo backpacking tents have two doors so one can be used as an exit while the other serves as access to the storage vestibule.
RAIN FLYS & VESTIBULES
Most backpacking tents come with full-coverage rain flys with at least enough room to store your boots. There's less "wiggle room" with backpacking tents, so selecting a model with a roomy vestibule that gives you space to store your gear or even break out your backpacking stove. Tent designers have responded to market demands for tent fly/vestibule combinations that can be configured to meet various weather conditions without sacrificing protection and airflow. Be prepared to stake out your rain fly for the best use of your tent's design. Your tent kit will include lightweight tie out materials for just this purpose.
TENT STAKES
When you're going to be camping on a windy ridge, you'll be grateful for the extra tie-down loops on your tent's perimeter, and for backpacking tent stakes made from lightweight alloys. These stakes are meant to be driven into the ground with your boot, or with the help of a fist-sized rock, because you left your hammer back with your cabin tent at base camp.
VENTILATION
Full-coverage flys sacrifice ventilation for weather protection, but in good weather, full "micro mesh" walls offer superior airflow. After all, when you're in the wilderness, privacy isn't an issue. Rain flys and vestibules require a tight pitch to take advantage of the air cushion and flow between the interior and exterior layers of fabric. Incorrect set up of backpacking shelters is easily avoided with a little practice and attention to the user guide. Four-season backpacking tents, like advanced adventure tents, have fewer or smaller mesh panels to keep in warmth.
TENT POLES
Three-season backpacking tents generally require fewer poles than their camping counterparts, and these are much lighter than those used with camping-style tents. Four-season backpacking tents beef up their structural support to hold up against high winds and light snow loads. These tents tend to have a more dome-shaped silhouette for maximum wind resistance. You'll notice more complex tent pole designs with many backpacking tents, allowing for optimal support while keeping weight to a minimum.
PACKABILITY
These lightweight tents and their shorter-segmented shock-corded poles are designed to fold up into compact, water-resistant bags. They're best suited for mid-sized backpacks, as they do take up room, but if you distribute the tent's components, you and your tentmates can extend your trip by carrying more food and personal items.
Check out this brief video overview on one of our most popular tents:
ULTRA-LIGHT TENTS
If you've ever talked to a thru-hiker preparing to tackle the Pacific Crest or Appalachian Trails, you've likely heard stories about whittling down the handles of travel toothbrushes, quartering bars of motel room soap, and ditching hiking boots for lightweight trail runners.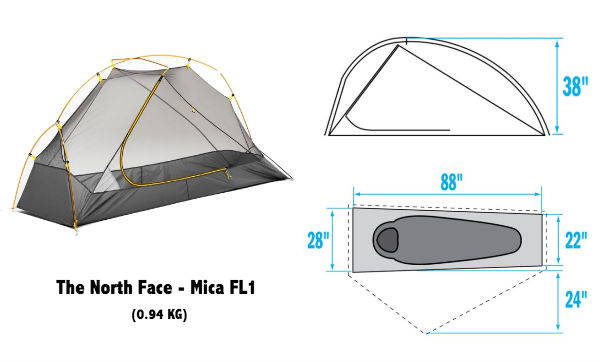 In a sport in which participants talk "grams" rather than "kilograms" when describing their pack weights, shelters are stripped down to the bare minimum. These ultralight shelters include the following:
Wing shelters
Tarp tents
Trekking pole shelters
Mesh shelters
Ultralight tents
You don't have to be a through-hiker to appreciate ultralight equipment. Touring cyclists, motorcyclists, and kayakers love these highly-portable shelters, as do those who prefer to sleep under the stars but want "just in case" weather protection.
FEW TENT POLES OR NONE AT ALL
Who needs tent poles when you've got trekking poles? MSR is an industry leader in ultralight tents designed to take advantage of lightweight trekking poles. For those who prefer to hike hands-free, the lightest, thinnest shock-corded tent poles do the job. Lighter tent material requires lighter exoskeletons built with fewer poles.
TENT STAKES
When your shelter depends on guylines to retain its structure, it's important to have ground-grabbing stakes. You can pare down your toothbrush all you want, but if you skimp on tent takes, you'll be sorry. Look for aluminum or titanium stakes with a lot of surface area per linear inch--ridges, twists, and serrations--to increase friction between the stake surface and the soil around it. Because ultralight thru-hikers are picky about certain tent components, stakes aren't always included in your shelter's package. Either way, you might want to stockpile extras or upgrade as you see fit.
MINIMIZED VESTIBULES
Ultralight backpackers don't have a lot of gear to stash, so one way to trim off the excess baggage is to scale down or eliminate exterior storage space. Don't knock points off an ultralight tent that doesn't have this feature unless you really need it.
WEIGHT
Volume-to-weight ratios vary among brands and styles. Some two-person, trekking-pole supported designs weigh in at less than a pound, while a few free-standing single-occupant models marketed in the ultralight category exceed three. And those are just the tents. Tarp tents are pretty much glorified rain flys, usually supported with trekking poles and guylines. A-framed "Pup"-style mesh tents, supported by trekking poles and stake-outs, weigh little more than a can of soda. Rain protection in the form of a wing shelter or tarp tent adds a few ounces, but with it comes flexibility: either component can be used on its own or together depending on the weather or the presence of insects.
FEATHERWEIGHT MATERIAL
Lightweight nylon panels and floors, and micro-mesh screens keep overall weight to a minimum while protecting hard-core hikers from insects and moisture. Ultralight shelters use the latest textile technology, but even the strongest gossamer-thin materials aren't meant for heavy-duty handling or prolonged sun exposure.
OPTIMAL VENTILATION
You can't get much breezier than an ultralight hiking shelter, whether it's made from mesh or nothing more than a suspended sheet of silicone-impregnated material.
UNPARALLELED PACKABILITY
Wake up, shake the dirt and dew from your ultralight shelter, stuff it in your pack, and you're good to go. Even the support poles are more compact if they exist at all. Ultralight tents and tarps dry quickly, letting you get back on the trail earlier in the day, and allow you more options when selecting--and packing--your backpack.
EXPIDITION AND MOUNTANEERING TENTS
Remember when we mentioned that trip to Everest Base Camp? If you're serious about extreme adventures, you want a true all-weather tent. Expedition and mountaineering tents are the preferred shelters for winter sports enthusiasts who want a little more assurance than they'd get with a 4-season backpacking tent, and they're a must for anyone expecting more than just a snow flurry or spring rain shower.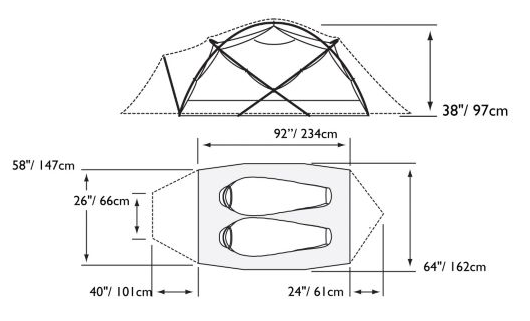 Tents in these categories are popular among backcountry skiers and snowboarders, snowshoers, skijoring and search-and-rescue teams, and anyone else determined to defy extreme weather conditions.
SIZE & WEIGHT
Weights vary based on capacity and design, but most expedition and mountaineering tents aren't bantamweight shelters. You can find a three-person alpine touring tent weighing as little as five pounds or a 50-pound five-person expedition tent designed to stand up to Himalayan conditions.
DURABLE MATERIAL
Heavy-duty, tear-resistant nylon material helps keep the cold out and the warmth in. Flooring is a little beefier than that found in backpacking or camping tents, but not as thick as what you'd find in cabin tents.
VENTILATION
You won't find much screening in a backcountry, mountaineering, or expedition tent. One reason is heat retention; another is that open-air tents can act like a wind sail during gale-force winds. Ceiling vents help divert moisture and hot air to the surrounding air pockets created by the outer fly.
RAINFLYS
Think "storm flys" in this case. The added pocket of air insulation is crucial to all-season tents, and the outer layer helps create the rounded profile necessary to withstand and channel high winds.
HEAVY DUTY TENT POLES
Think "storm flys" in this case. The added pocket of air insulation is crucial to all-season tents, and the outer layer helps create the rounded profile necessary to withstand and channel high winds.
VESTIBULES
Expedition and mountaineering tents often come with vestibules for the sake of creating a wind-resistant contour as much as to provide cover for sharp and bulky adventure equipment.
STAKES
When you need to secure your tent to loose sand, fluffy snow, or packed ice, you need the right stakes. Don't be surprised if the expedition, backcountry, and mountaineering tents you're researching don't include stakes; as with ultralight shelters, users tend to select their securing devices based on their specific needs and environments. Most tent stakes in this category resemble small spades. Some even have retractable points. Adventure tents are usually free-standing, so quality trumps quantity in terms of carrying weight.
PACKABILITY
There's always more than one reason to follow a buddy system! Some backcountry and mountaineering tent models can be tucked into a single pack, but are best distributed among one or more skiers snowshoers, or snowboarders. The largest tents require sleds, musk oxen, or an advance team. You've got many options in between depending on the scope of your adventure.
Check out the 4 season Trango 2 Tent being setup below:
CABIN AND SHELTER TENTS
When you're planning to roll up to your campsite and set up your tent without carrying it more than twenty feet, you'll have a lot more latitude in selecting your camping gear. You're not worried about weight; you're going for comfort, space, and convenience, especially if you're bringing your whole family.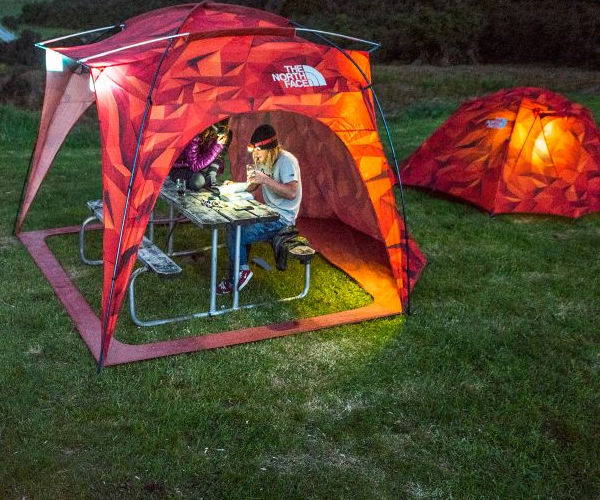 EXTRA DURABLE FLOORING MATERIAL FOR FLOORS & WALLS
Kids, coolers, and pets cause a lot of wear and tear on tent materials, and your tent will see a lot of foot traffic on each trip. If weight is not a factor choose a tent with tough flooring material similar to heavy-duty utility tarps.
WEATHER RATING
Cabin tents usually fall into the 2 or 3 season capability, which is all you'll need unless you're planning a trip to Everest Base Camp or you need your tent to withstand high winds and moderate-to-heavy overnight snowfall.
STURDY , EASY TO SET UP POLES
Most cabin tents rely on rigid, durable aluminum poles for support. Look for a cabin tent with intuitive connection points, because you know you're going to lose your instruction manual on that first trip.
EXTRA FLOOR SPACE AND HEIGHTS
Vertical walls and larger footprints make plenty of room for cots, duffel bags, coolers, and portable cribs, and keep kids from fighting over personal space. Headspace is a bonus for adults, especially if they have to move around a lot to keep things in order and check on their kids.
OPTIMAL VENTILATION
Lots of windows help keep your cabin tent cool since chances are you're planning most of your camping trips during the dog days of summer. More wall space and thicker, durable materials mean more heat absorption and retention, so look for a lighter-colored tent that meets your other criteria.
RAIN FLYS
Always be prepared for rain. Most cabin tents have minimal rain flies--just enough coverage to prevent water from entering windows and doorways, with minimal impact on ventilation. As with all tent styles, make sure the fly is easy to set up, and that it doesn't sag onto the tent itself; this causes condensation and rain to seep through.
TENT STAKES
It's not likely that your cabin tent will be carried off by a gust of wind if you're bringing along the kitchen sink, but to be safe, you'll want to use the heavy-duty steel or plastic stakes that are usually included with cabin tents. Don't forget a hammer or mallet, especially if you're camping on the hard-packed dirt at an improved campsite.
PACKABILITY
These tents are heavy and cumbersome at best and require some serious trunk space--especially if you have trouble repacking your "Tent Taj Mahal" at the end of the weekend. They're not as water-repellent as more expensive tents, so they'll take time to fully dry out; you might want to give your cabin tent some "breathing room" so it doesn't get musty on the ride home.
USEFUL CABIN TENT FEATURES
Additional rooms with separate exterior doors allow for more privacy and help separate sleeping areas from living areas. This is a huge plus if adults are going to be staying up later than their kids, or you're camping with friends.
SUMMARY
Whether you choose a separate tent for every occasion or want an all-around recreation shelter, you've got plenty of options. Sporting goods manufacturers are responding to a widening market of outdoor enthusiasts, and with a little research, you'll find a tent that's perfect for your particular needs.
If you have an adventure in mind, and aren't 100% on what type of tent would be best for you, don't hesitate to contact a member from our sales team at info@prfo.com so that we can either guide you or place a special order for the tent thats best for your camping needs.