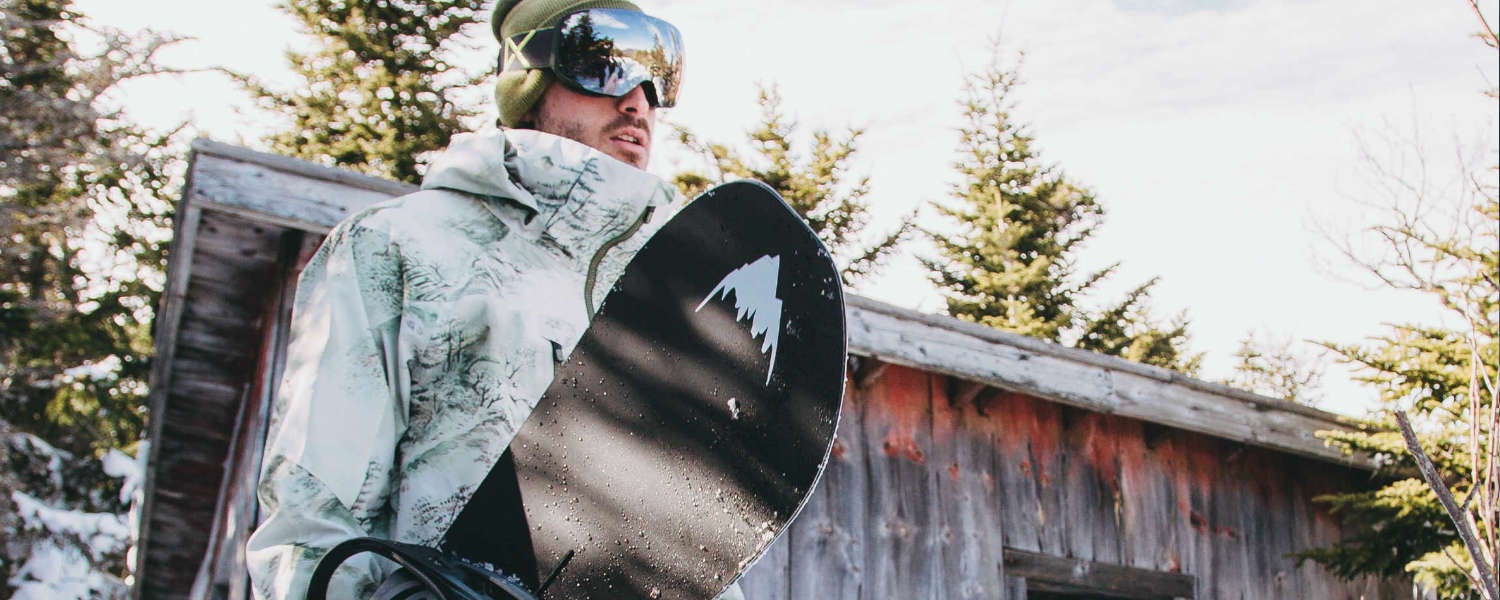 Choosing the right snowboard can be a daunting prospect. There are so many varieties of board out there these days. By applying a few personal filters, however, you can make the task of choosing the right snowboard much less arduous. You first need to ask yourself the following questions.
FREERIDE OR FREESTYLE?
Are you a freerider / Powder chaser? Do you like to cruise the entire mountain? Calling in sick at work when it snows a foot? Do you like exploring hidden runs or racing down the mountain as fast as possible?
Freeride snowboards are usually designed with a stiffer flex and a directional shape that allows them to carve more efficiently in one direction.
Powder snowboards are boards designed to ride this most desirable of terrain. Fresh powder snow is just the best. Turns are sharper, and made by lifting the nose out of the powder and flexing your legs to suit the undulations of the ground. Powder boards are designed with a wider nose and a tapered, narrow tail. The rocker is set well back too.
If you spend most of your time in the park, a freestyle board is for you. Freestyle snowboards tend to be shorter than their freeride brethren. They're designed with a true twin (or twin tip) shape, which is perfect for terrain parks because you can switch them around in either direction.
The most versatile snowboard is the all-mountain. Cross this beast with a freestyle snowboard and you get a very playful board you can use just about anywhere. These hybrids are sometimes called directional twin boards; a nod to their almost but not quite mirrored shape.
SKILL LEVEL
How proficient you are at snowboarding is a major factor in your choice of board. Snowboards are designed to suit abilities. Design characteristics that vary to match user experience include flex, length, shape, and even the materials used.
Make sure you choose a board with which you feel comfortable. Beginners are advised to picker shorter, softer boards with a rocker shape. These tend to be more forgiving.
Someone with an intermediate skill level might wish to trade some of that forgiveness for a more responsiveness. A stiffer camber type board demands faster reflexes but offers more performance
BIG OR SMALL?
It won't surprise you to know that your size, height and weight influence which board you should be using. Snowboard manufacturers usually have sizing charts available on the back of their boards to help you pick the best length for you.
There is some flexibility with length, depending on where you're snowboarding. If you ride mainly in the park, you should choose a board on the shorter end of your range. If you're an all-mountain rider, you should go long. Same, if you weigh heavier than average.
The width of the snowboard depends a lot on boot size. Ideally, the edges of your boot should just overhang the sides of the snowboard. This allows you to get maximum leverage from the board, as well as maximum control with your ankles as you carve turns. Again, there are charts available to match boot size with snowboard width.
If you choose wrong and buy a board that is too narrow, you risk incurring toe drag. Here the toes of your boots catch on the snow, propelling you head over foot. Snowboarders with boots over size 11 are particularly prone to toe drag.
PAST BOARDS
It's never a bad idea to look back on what you've bought before. Snowboard technology is advancing all the time. That board you bought 15 years ago may be more akin to your Mom's ironing board. You can do better this time. And you can spend less. As snowboard technology advances, prices will always go down.
Ask yourself how you used your old board. Maybe you outgrew it but never renewed it because you thought there was nothing better out there. Not only have snowboards improved a lot over the years, the fun that can be had and tricks that can be performed on today's boards eclipse anything in the past.
Think about what you want to get out of your new board. Don't choose the first snowboard you see. Take your time. By following these tips and finding the board that is right for your needs, you'll get the most satisfaction out of snowboarding for many years to come.