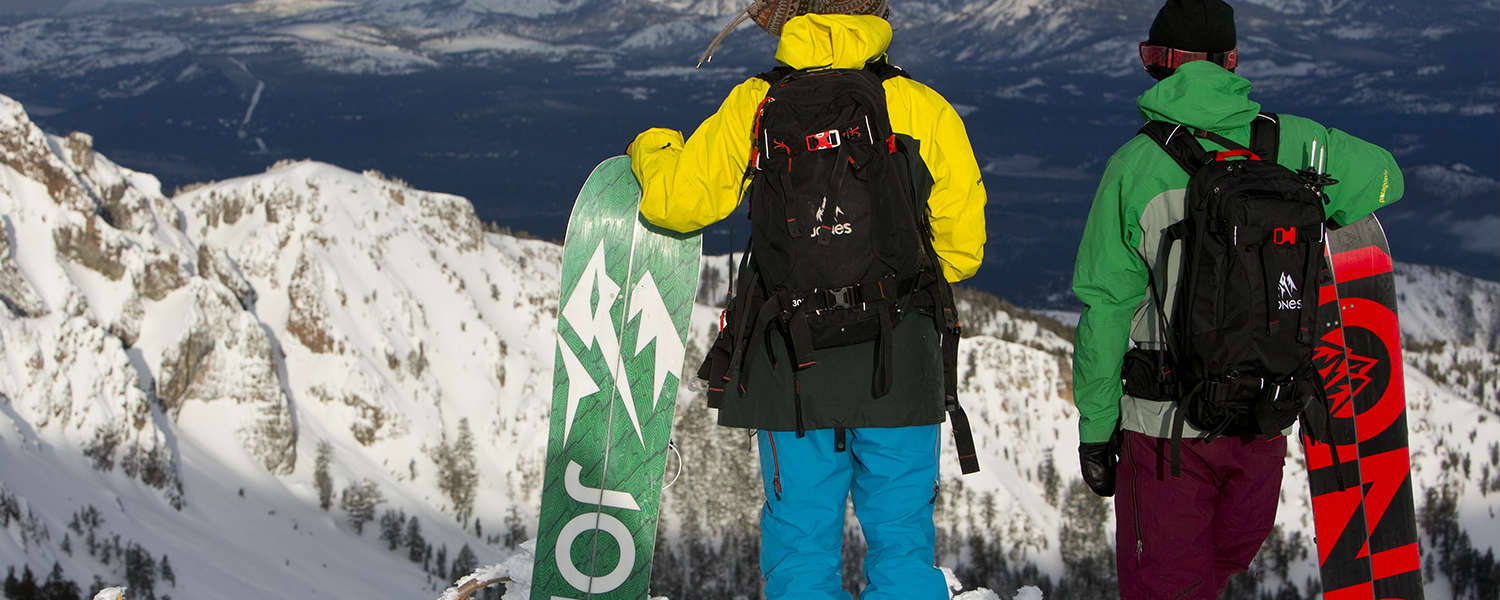 Most of us know the enjoyment of being the first person to walk on that clean, pure, fresh patch of snow. It's great being the first to leave prints! Snowboarders are no different! We love to explore new places, to leave some impressive tracks, and perhaps do so where no one else has been able to reach. Reaching the best places for snowboarding can take some work.
Consider your options:
You decide it's not worth the hassle to hike in the snow. There's no ski lift, so how else would you get there! Grab your snowshoes. Strap your board to your back. Start the walk uphill. You know that when you get there, it will be worth it. But it's a shame about that extra weight you've had to carry.
Your board is a splitboard. You don't have to worry about changing into snowshoes. You can split your board in half, attach some skins, and away you go. This is the quickest way to get to that pure unadulterated snow and leave your tracks.
HOW CAN YOU CLIMB WITH YOUR BOARD?
The invention of the splitboard means that you get the practicality of touring skis for climbing and traversing while maintaining the fun carving/suring feel snowboarding on your way down. Not having to carry extra weight is a great advantage. With a splitboard, you don't have to carry snowshoes or have a board strapped to your back at all times.
You need to attach skins to your board. A "hairy" skin will provide traction. With a few minor adjustments, however, you can convert your board into skis and back again, meaning that you don't have to lug around heavy or cumbersome equipment, which could spoil your experience and ruin your edge.
If you're in any doubt about the benefits of splitboarding, just ask some of the people who have tried both splitboarding and snowboarding. Splitboards are worth the investment, because they allow you to climb more quickly and use less energy, which means more time and energy for snowboarding! With a splitboard, you'll be able to cover more distance more quickly than if you were wearing snowshoes.
Climbing is part of the snowboarding experience, so make it as fun and pain-free as possible. A good splitboard will help you make the most of those pristine slopes.
HOW TO CHOOSE YOUR SPLITBOARDING EQUIPMENT
Curious about getting into splitboarding? You're not alone. Splitboarding is the ideal way to make the most of backcountry trails and pristine slopes.
Here's what you'll need to get started and here's what to look for..
A splitboard
A vast range of splitboards is available. Choose a splitboard the way you would choose a snowboard. Think about your weight, your experience, how you like to ride, and the terrain you are likely to encounter. If you are thinking about using a splitboard, the chances are very good that you will be using it on different terrain to a snowboard, so keep this in mind.
An interface
This refers to the way in which the bindings are connected to the board. You will probably be choosing between the Voilé puck system and the Karakoram system. The Karakoram system is designed to work with Karakoram bindings only. The Voilé puck system allows you to use a wider selection of splitboard bindings, plus you can even use your traditional bindings with an add-on converter kit.
Bindings
Splitboard specific bindings are recommended because they are designed for backcountry use. They are more lightweight than traditional bindings and will have heel height adjustments for climbing. In addition, using bindings that are fully compatible with your splitboard means that you will typically save time when it comes to swapping from riding to skinning, giving you a better experience.
Split Hooks and Tip and Tail Clips
These are (almost always) included with factory splitboards. They are the bits that hold the two pieces of the splitboard together. They are important, because they will help give your splitboard the support and feel of a normal snowboard.
Climbing Skins
When you want to tour uphill, you will be thankful that you invested thought and money into some good climbing skins. They are the adhesive-backed strips that give you traction. They allow you to glide forward, but prevent sliding backwards. Don't try to fit your ski skins to your splitboard. They won't fit.
Crampons
Wherever you get your bindings, look for compatible crampons from the same manufacturer. It's better to have crampons and not need them than to need them and not have them. If you're in a situation where you need a smooth glide and boosted your traction, you'll be glad to have splitboard crampons to hand.
Poles
Seriously? Yes. If you want to skin up a mountain before shredding back down, poles will give you balance. And they'll make your journey easier over flat or rolling terrain too. If you're splitboarding, you are thinking portability. Poles can be collapsible, easy to store in your pack.
Get the most out of your splitboard by enhancing your splitboarding with the right gear. Think ahead and you'll be able to travel light while being prepared for multiple scenarios, and without breaking the bank.
WHERE CAN I GO SPLITBOARDING?
The beauty of splitboarding is that you can go where you want. If you want to not only find your own path, but make your own path, then splitboarding is for you.
Here is a look at some of the top areas where you can enjoy splitboarding in Canada. A good place to start is mainstream ski hills. This is because they often have opening spots that are reserved for splitboarders. Not only this, but many of these areas are offered at a significantly reduced rate.
Mont Tremblant
A good example of a mainstream ski hill frequented by splitboarders is Mont Tremblant. Increasingly, the area is being used by people who like to go from skiing on the slopes to apres-skiing in the village without the need to stop and change footwear.
When lift lines are long, you will be especially glad that you are splitboarding and can hike up instead with ticket prices for hiking the mountain as low as $9.99 a day. The hiking, of course, is part of the pleasure, and it beats waiting in the cold and then sitting in a cold chair. Hike up a ski trail or take an adventure on a climbing trail in the woods to enjoy the atmosphere, the scenery, and to keep your body moving.
Revelstoke
Revelstoke in British Columbia is a great place to go splitboarding. There are various ways in which you can enjoy the snow. You'll find many backcountry huts and lodges, so you can have a great weekend or week putting your splitboard through its paces. Rogers Pass is also nearby offering up terrain for the more experienced splitboarder.
Whistler
Whistler in British Columbia offers the best of both worlds, which is music to the ears of splitboarders. You can hit the snow straight off the lifts at Whistler Blackcomb Resort. Classic tours include the Musical Bumps, which has big open bowls and tree runs too. You also have the option to dive into the ample backcountry in the area. The Coast Mountains offer stunning terrain and true wilderness. And don't forget the mountains around Pemberton and the Duffey Lake Road.
Kicking Horse
Kicking Horse in the Golden area of British Columbia is a high-quality, world-renowned skiing destination. This resort offers world-class experiences, with incredible views and some of the best terrain around.
You'll find plenty of runs, chutes and bowls, and there is a good spread between areas for beginners, intermediates, the advanced, and experts.
CONCLUSION
Whether you are ready to earn your turns and explore the wilderness of your chosen area, or you are looking to hop off a lift and hike the peak, mainstream ski hills in Canada will offer you the experiences that you and like-minded splitboarding fans are looking for.
Prime your equipment, choose your destination, and get ready for what might be the splitboarding experience of a lifetime.