Want to go surfing this winter, but worried about your budget? Check out these multiple surfing destinations. At Nicaragua's San Juan del Sur. El Salvador's Eldorado Surf Resort, and Santa Teresa, Costa Rica, you'll find some of the best surf for less.
Whether you are a beginner or an intermediate surfer, any of these destinations will give you great opportunities to up your game. The first thing to decide is whether you want to set up your own trip or book with a surf trip provider. If it's your first time out booking with a provider is both a great way to learn and to meet people and get to know an area.
If you know what you are doing, then setting out on your own or with friends and traveling to several destinations might be more your style.
A smart thing to do is check out Barefoot Surf Travel. They have deals to a number of great surfing destinations that immerse you into surfing with high quality classes. They also add to your adventure with cultural experiences and adventure. If you're just setting out, it may be best to have Barefoot Surf Travel help with your trip. They operate one of the best surf travel camps in San Juan Del Sur. Whatever you decide, below are some great winter destinations that offer surfing vacations.
NICARAGUA'S SAN JUAN DEL SUR
This town is one of the few surf towns where surfing and partying are readily available. There is not really any surfing directly in San Juan Del Sur, however what makes it special is that it is surrounded by great beaches and breaks like Maderas, Remanso, and Playa Hermosa. San Juan del Sur is the base camp for surfing in Nicaragua.
Most easily accessible from San Juan del Sur is Playa Maderas, twenty minutes north of town. Getting there will take a 4x4 or an extended thumb. Waves range from chest high and crumbling to double overhead and barreling contingent on direction and swell size.
This beach is fun for both beginners and experts, but beginners should be part of a class if they are not strong surfers and swimmers. Get in touch with Barefoot Surf Travel for a truly top class experience. This is a beautiful location and you can fly from Montreal or Vancouver for between $450 and $750 depending on the season.
Make sure to check out ''Sunday Funday'' if you are the partying type. Ask the locals where to buy tickets for this pool hoping party that is one of the best celebrations around.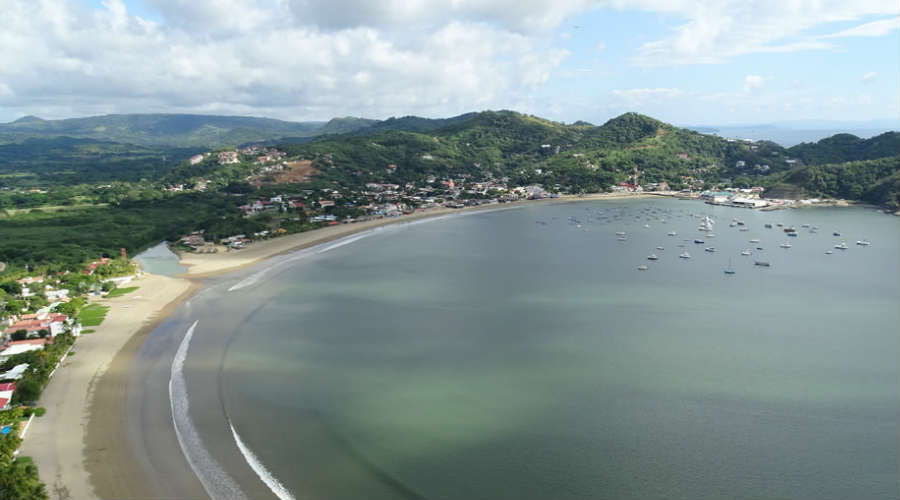 EL SALVADOR'S ELDORADO SURF RESORT
This is a great place to stay if you want to surf. Beginning and intermediate surfers have a good time here because the surf is good and the place is beautiful, right on the beach, with breaking surf right in front of you.
It's popular with folks from Quebec, who find it a fun place for a Christmas surfing vacation, mainly because this small resort caters to surfers but welcomes anyone. The owners are Canadian and passionate about surfing and make no bones about it being their priority. The resort is designed for surfers who want to maximize their water time.
There is a lot to do in the surrounding area if you are traveling with friends who are not surfers and the beach is fantastic. A few steps down the beach from the resort is an area perfect for swimming.
After a day in the surf, find your way to the Tiki bar which is the heart and soul of the resort. Here you can have breakfast and lunch prepared right in front of you with fresh ingredients. It's also the place for exchanging travel/excursion information and just talking about your day.
This is truly a perfect surf hotel with the beach right out front. No crossing any roads or climbing down cliffs. And best of all, this is one of the most affordable surfing vacations available in Central America.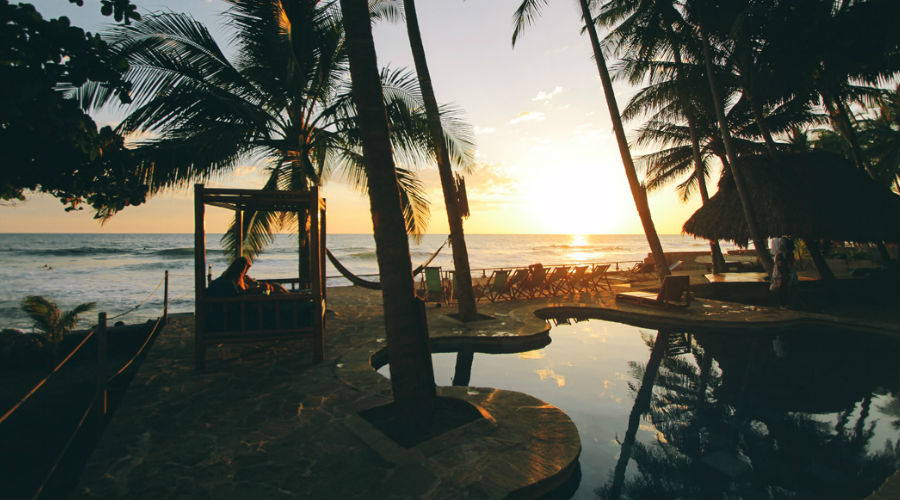 COSTA RICA'S SANTA TERESA
Costa Rica is a surfer's paradise. Wet suits here are optional and hazards are minimal. You can surf on populated beaches if you like company or head for the empty breaks.
If you want to get really remote, there are world class waves waiting for you if you're willing to hike through a rainforest or take a boat to some remote beaches. Every level of surfing is available in Costa Rica. Most lodging is still affordable, as is the food.
Santa Teresa, Costa Rica has some beautiful beaches framed by a forest backdrop. The lack of high-rise buildings leaves the coastline beach pristine as it curves along between the ocean and the forest. This is a booming destination for surfers and the younger crowds who flock to these scenic shores because they offer up great surf.
Technically speaking Santa Teresa is part of Mal Pais, which stretches roughly 10km past the beachs of Playa Carmen, Santa Teresa and Playa Hermossa. Located on the southern tip of Nicoya Peninsula in the Puntarenas Province of Costa Rica, Santa Teresa is a great surf destination with and awesome foodie and yoga scene. It also has a good mix between relaxed vibes and partying if you want to let loose one night after surfing.
There are more groundswells than wind swells in the area. The surf is usually best at low to mid tide. People need to be aware of strong rip currents and beginners should invest in taking lessons at one of the surf camps located right on the beach.
Taxis are rare here so renting a 4 wheeler is highly suggested to take advantage of this 10km prestine coast-line. Be sure to make a day trip to Montezuma if you rent a 4 wheeler.
Notible spots to check out:
Koji's - Japanese gastronomy
Taco Corner - Best Taco's in the word. Period. Bring a beer or two along
Horizon Yoga Hotel Santuary - Best view in Santa Teresa for a Yoga class
Sunday Family day at Blue Surf Santuary - Fun bbq at all ages
Sunsets - Some of the best sunset views in Costa Rica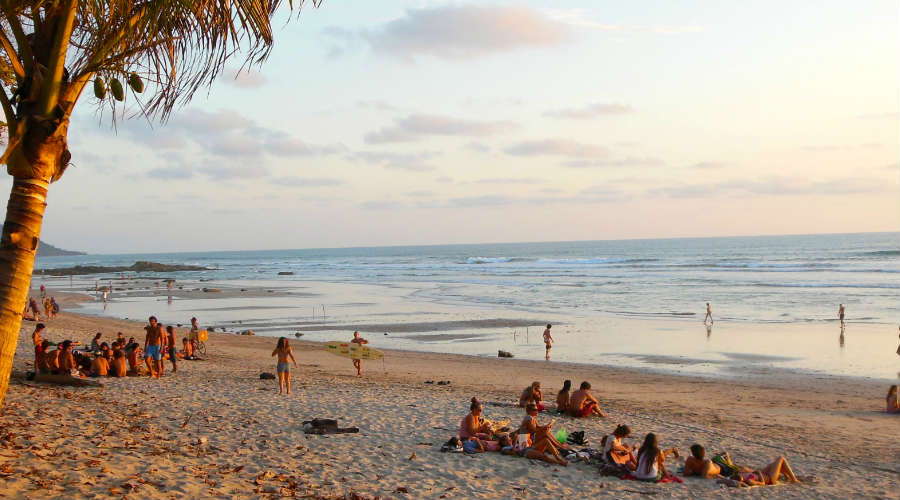 CONCLUSION
Whether you travel solo or in a group, Central America offers some great surfing opportunities. If surfing is something that you've always wanted to do, you don't need to wait until next year. Go this winter and find out why it's such a great sport.